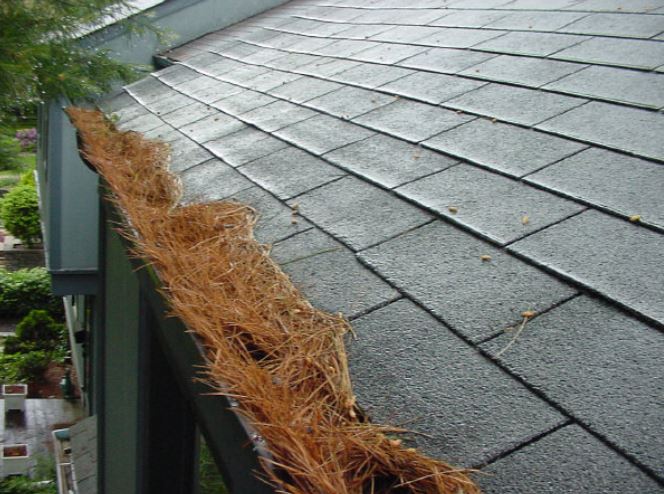 How Clogged Gutters Can Damage Your Roof
Before the rainy season hits, it's important that you understand what you have to be prepared for it. One of the most important things that needs attention is the condition of your gutter system and the downspout. Keeping your gutter clean is imperative for the safety and security of your home. The work of a gutter is to drain water from your rooftop through the downspout to the drainage system. If your gutter or the downspout is clogged, it won't be able to do that. Not cleaning your gutter, can cause you many unnecessary expenses. Clogged gutters bring with them serious threats that must be prevented. Read along to know what damage can a clogged gutter cause to the roof of your home and how to dismantle the clog to save your roof.
Dangers of a Clogged Gutter System
One of the several dangers attached with gutter clogs is damage to your roofs. If the water does not drain out of your roof, then the edge of the roof surface has to face constant contact with water which can damage it. The roof and surface material of your roof can become weak by rotting. The iron on your roof may also rust due to contact with water. If this happens, you will be left with no choice but to replace and reinstall a new roof, not to mention the costs associated with it!
Apart from that, there is a risk of damage to foundation and landscaping. If there is excess water that does not drain out, it can cause your foundation to leak, crack, or it may even sink! If your gutter does not drain the water to a location where it is able to be absorbed into the ground, or to the drainage system, there is a risk of damage to your landscaping from excess waterfall on trees, plants, etc. There is a difference between watering our plants with care and letting them face a fierce hose! And, If your roof starts to leak, it will damage your ceiling and other interiors. Once waters start entering your house, it will damage your furniture, windows, and walls.
Stagnant water is the breeding place for disease-carrying insects – the flies, the cockroaches, and the parasites. A Clogged gutter system accumulates water and causes risk of insect breeding. Once insects breed on your roof, your family is bound to fall ill. To keep your family safe from such harm, it is important that you clean your gutter before the rains hit.
Next comes the risk of slip and fall. Clogged gutters don't drain water, instead, the water starts fall on places you don't expect it to. This will create a slippery situation you can't risk. Clean gutter and downspout will keep you and other people around your house from slipping and falling.
How to Clean Your Gutters
In order to avoid the need for roof repair, you'll need to regularly clean your gutters.  How do you do that? There are a number of steps that you can follow to prevent clogging of gutter. You will need some equipment and some handy tools. Get a trash bag, a safety rope, a ladder, a hose, a pair of gloves, a hose and a scraper to clean the gutter. Once you have gathered all that is necessary, place the ladder firmly, climb on it. Make sure to harness yourself properly with the safety rope before you get to work. Now collect all the dry leaves, paper, branches, dirt and mud in the trash bag, or a bucket. Make sure you wear your gloves to protect yourself from sharp twigs and unhygienic materials. Now use the scraper to clean debris from the bottom of the gutter. The next thing that you have to do is to rinse the gutter. Use a hose to remove debris and clean the clogged section of the gutter.
You must have understood by now that how important it is to keep your gutter from clogging for health and safety of your family. You also know how easy it is to clean a gutter all by yourself, without the need of any sophisticated tools. You are wise enough to not avoid looking into the condition of the gutter of your roof before the rains hit. If you think you can't do it by yourself, consider taking help from your friends or relatives, or simply you can get some professional help.